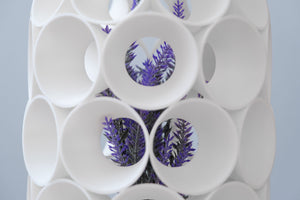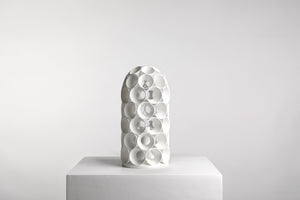 In Praise of Flowers
Lavender
Redolence of Lavenders.
Lavender was one of the sacred herbs required for the preparation of the Holy Essence. She is indeed an enchanted plant, full of lovely scents and therapeutic. 
Linking back to our relationship with Lavender's graceful aroma, how can we conceal the beauty of Lavenders, by encapsulating and drawing the attention of users to discover her scent?
Tan Wei Jing DID.IT
3D printed resin, hand sanded. 17 x 17 x H36 cm, 1 kg. This is a unique piece, comes with a Certificate of Authenticity. 
Flower not included.
---
About:
In Praise of Flowers is a tribute to the last moments of life that cut flowers offer us, by exploring their shapes, stories and symbols.
It is a research in nine chapters dedicated to nine different flowers: the Peony, an impressionist muse, the fragrant Lavender, the majestic Hydrangea, the Asian Orchid, the showstopper Lily, the delicate Tulip, the Narcissus and its reflection, the solemn Rose and the frail Baby's Breath.