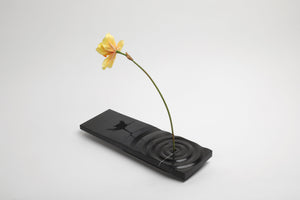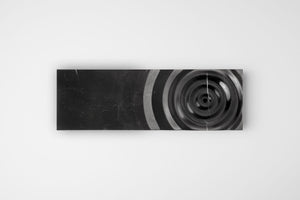 In Praise of Flowers
Daffodil
Narcissism of Daffodils
The story of Daffodil revolves around a famous tale - the Narcissus, who was an attractive man who fell in love with his own reflection in the pond. He loved his reflection so much that he ended up losing the will to survive as he gazed at himself until he passed. Soon after, a Daffodil took over his place and thus, embodies requited love, return of devotion and compassion.
With the her iconic blooms often pointed slightly downwards on her stem, as though constantly looking at her reflection, how can a vessel empower the Daffodil to reveal her symbolism of vanity by being a narcissus?
Designed to simulate a lake with gentle waves, the Daffodil can admire her beauty endlessly through the smooth and glossy reflection of the vessel.
Tan Wei Jing DID.IT
Milled Nero Marquina marble. 40 x 13 x H4.5 cm, 3.5 kg. This is a unique piece, comes with a Certificate of Authenticity. 
Flower not included.
---
About:
In Praise of Flowers is a tribute to the last moments of life that cut flowers offer us, by exploring their shapes, stories and symbols.
It is a research in nine chapters dedicated to nine different flowers: the Peony, an impressionist muse, the fragrant Lavender, the majestic Hydrangea, the Asian Orchid, the showstopper Lily, the delicate Tulip, the Narcissus and its reflection, the solemn Rose and the frail Baby's Breath.