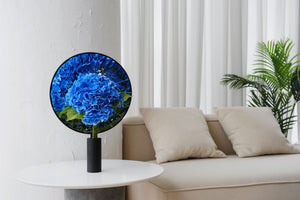 In Praise of Flowers
Hydrangea
Vanity of Hydrangeas.
Hydrangea radiates abundance because of her lavish petals and her ability to create generous round blossoms with little to few seeds. Thus, she is associated with boastfulness and vanity due to her glorious array of petals.
Inspired by her repetition of boastful petals in a spherical form, how can a vessel be dedicated to enlarge her blossoms and boastfulness notably?
Tan Wei Jing DID.IT
Handmade with Lacquered metal base, 3D printed resin, mirror acrylic. 34 x 13.5 x H50 cm, 3.3 kg. This is a unique piece, comes with a Certificate of Authenticity. 
Flower not included.
---
About:
In Praise of Flowers is a tribute to the last moments of life that cut flowers offer us, by exploring their shapes, stories and symbols.
It is a research in nine chapters dedicated to nine different flowers: the Peony, an impressionist muse, the fragrant Lavender, the majestic Hydrangea, the Asian Orchid, the showstopper Lily, the delicate Tulip, the Narcissus and its reflection, the solemn Rose and the frail Baby's Breath.